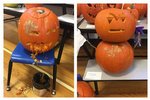 Sick pumpkin and Custodian Pumpkin ready to clean up the mess.
WOW! What creative students, parents, and staff we have!
We had quite a few pumpkin carvers and designers turn in pumpkins for our contest this year! We saw everything from cute and adorable, to scary, to just out right funny. Congrats to everyone that participated. We loved seeing your creativity and the wide variety of designs that showed up.